It seems like years since I last posted. And I can just about recall that I mentioned the books getting new covers. Ah, yes, I did – and as if by magic, here's a link to that very post.
Would you like to see them, the new covers? Of course you would, don't be shy.
Hope you like them. I haven't managed to get them all uploaded to the various selling platforms yet because it's a heck of a job, very time-consuming. But give me a week or so.
If you click on the 'CSI Eddie Collins Series' on the front page of the website, you'll see that the old covers and the old blurbs are still in place, ready to be swapped over. But, just so you're aware, the links still go to the right place.

Speaking of links and such, let me offer up a set of links to all the stores I can think of – then you have them. Like most authors, I generally only offer the Amazon links because they're the most popular, but plenty of people buy from Apple, Kobo, and Google, so it would be rude not to!
That said, I've just remembered what the last post hinted at: the new book! Yes, the new book is entitled This Side of Death, and in it we see Eddie's mind plundered to within an inch of its life. So far, it's been through editors and beta readers, and now it's out with a superb team of ARC readers. I don't mind telling you two things: I am humbled by their responses (email, and on Facebook), and secondly, I am shocked that the most mentioned phrase is 'the best one yet'.
Don't believe me? Here, go and have a look at the reviews that have come in so far – there's about 40. Goodreads – This Side of Death.
And because people have read those reviews, an incredible number of people have pre-ordered the book from Amazon, and have propelled it to number 19 in the Hot New Release chart, with an overall ranking of just over 5000 (UK).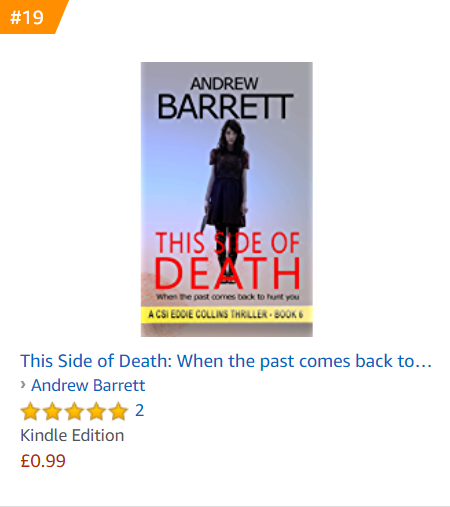 Let me share the blurb with you:
This Side of Death. When the past comes back to hunt you.
Alex Sheridan believes the only way she can be free of her demons is to kill the men in her life. She has a list, and Crime Scene Investigator Eddie Collins is on it.
Death misses Eddie by inches, and Alex is locked away in Juniper Hill high-security hospital.
Everything is fine for Eddie until one day four years later, when Alex escapes. This time she's better prepared.
The week that follows ruptures Eddie's life and shatters the belief he had in his own past, leaving him wondering what really happened, and facing one stark choice: who to kill and who to save.
This Side of Death is the most revealing CSI Eddie Collins novel to date. Prepare to see inside his past and understand what makes him the angriest, most feared, and yet most respected CSI in England.
If you like fast-paced and gripping crime thrillers with a strong forensic element, you'll love Andrew Barrett's This Side of Death. It will appeal to fans of Kathy Reichs, Robert Bryndza and Angela Marsons.
I'm going to prepare a new entry into the website 'The Story of…' section, just so we keep everything ship shape, but the story was born from the final few words in a novella I wrote in 2017. In The Note is about a particularly vile young lady called Alex. She wants Eddie so much that she's prepared to do anything to get to him – including breaking out of a secure hospital. Her final words in The Note were, "Watch out Eddie, I'll never forget you, and one day I'll be just around the very next corner."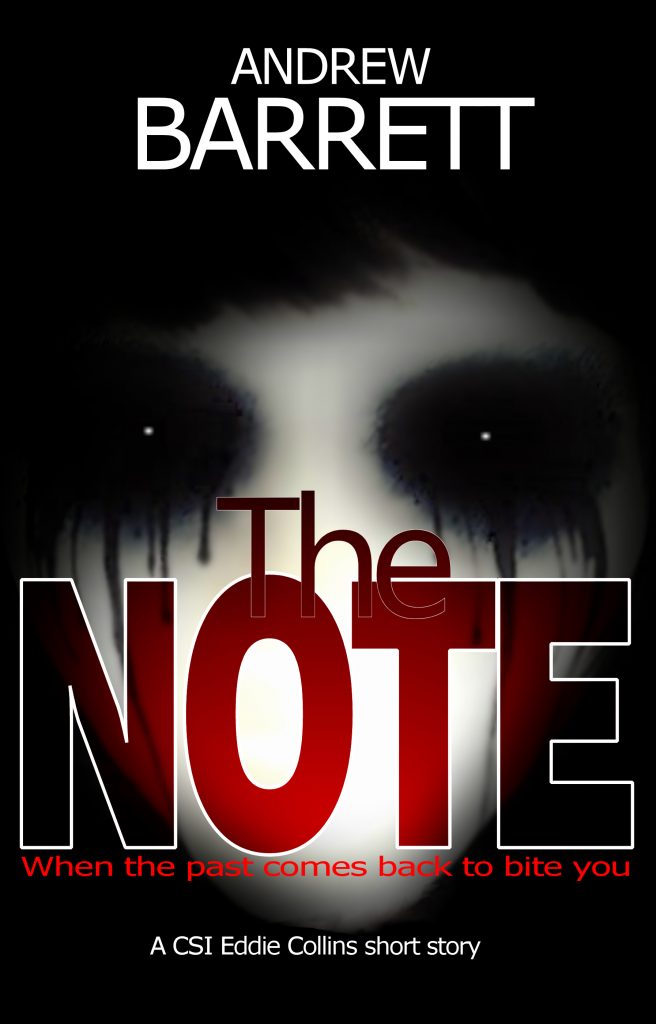 I couldn't leave it at that. I wrote The Death of Jessica Ripley and even began writing another psychological thriller (provisionally titled – 1977) but stopped. I was keen to get this new CSI Eddie Collins book under way, and I did. But firstly I needed to research Alex, and make sure I portrayed her mental condition as accurately as I could. There's a lot to learn, and although a few people have said the depiction is good, I can't hope to have caught everything this poor woman suffered.
The piece I'll write for The Story of… will go much deeper than I can here in this blog post, but I hope it's whetted your appetite, and you've now got a good idea of the flavour and tone of this latest offering. It's very dark but littered with humour and sarcasm – some of it is even appropriate!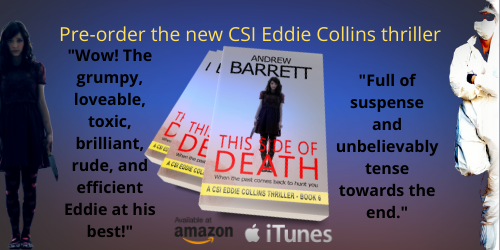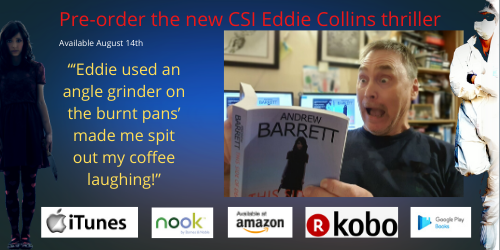 As mentioned, the book is on pre-order just now, so if you see any posts on your social media advertising it, I'd be grateful if you'd consider sharing them. I have a month of promotion in front of me, and I admit that I'm not the best salesman out there – in fact, I'm pretty poor at it. Although I'm not looking forward to it, I will do my best. And then I get to hop back onto 1977 and take it for a spin.
Oh lastly, I've reformatted some of the Eddie Collins paperbacks, and that's had the benefit of making them cheaper. A lot cheaper. I've used an image on the back cover – a CSI. Yes, it's me, from a few years ago.