Interview with Lexie Conyngham – December 2016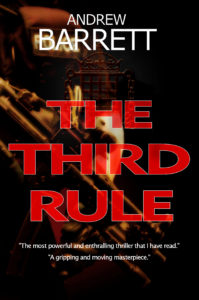 Next author is Andrew Barrett, author of The Third Rule books featuring Eddie Collins (I've just reviewed his Black by Rose) and The Dead trilogy. Andrew's a real-life Scene of Crime Officer so the detail in his books is fascinatingly realistic.
He writes:
'My three favourite crime novels are:
Broken Dolls by James Carol. I enjoyed this book because it wasn't at all pretentious. It had a new (to me) style of protagonist in Jefferson Winter. He's hunting serial killers, and we're led to believe he has a special insight into how their minds work because his own father was a serial killer. The story is good, but my favourite aspect of this book is the style. It's very easy to read, beautifully constructed.
A Reason to Kill, by Michael Kerr is another book I'd highly recommend. It's the first of his DI Matt Barnes series, and it's a cracker. This is a full novel that reads like a short story. It's full of action, very little space given over to long passages of exposition. It's not a story for those wanting a cozy; it's a full-throttle book with nothing hidden by modesty. Again, the writing style is easy on the eye, and Matt is an engaging character who I found empathy with.
And for something very different… Different in that I haven't finished reading it yet! Cally Taylor's The Missing. I have an inkling it will finish very well, but what hooked me about this book is the first person narrative. Cally has made it all look so damned easy. It reads like an old friend chatting to you, and the detail included is exceptional without dragging the story to a halt. I just know I'm going to have a book hangover when I've finished it.
And me? What am I doing? Funny you should ask. I'm in the final throes of finishing an Eddie Collins novel entitled Ledston Luck. Surprisingly, Eddie gets into some rather hot water with his bosses, and while dodging Professional Standards, he also finds himself dodging bullets too – more successfully than some of his colleagues. This has already been called my best book to date, and it delves into some harrowing lives along the way, arriving at an ending no one could foresee (hopefully!). I'll release this over the next few months, along with a new Eddie short story, which is written in first person. Wear your stab vest while reading this one!
Thank you, Andrew – looking forward to that. And finally by coincidence one of the writers mentioned by Cecilia above: Lynda Wilcox.
You can read the original interview on Lexie's blog here, and here's a link to her blog site, Murray of Letho – it's very good and very busy.