Interview with Louise Ross – September 2017
This week, I have the pleasure of welcoming Andrew Barrett to the blog, a successful author of authentic crime thrillers with a forensic flavour thanks to his alter-ego as a Senior CSI in Yorkshire.
Andrew has enjoyed variety in his professional life, from engine-builder to farmer, from Oilfield Service Technician in Kuwait, to his current role of Senior CSI. He's been a CSI since 1996, and has worked on all scene types from terrorism to murder, suicide to rape, drugs manufacture to bomb scenes. One way or another, Andrew's life revolves around crime.
In 1997 he finished his first crime thriller, A Long Time Dead, and it's still a reader favourite some 200,000 copies later, having topped the Amazon charts several times. Two more books featuring Scenes of Crime Officer (SOCO) Roger Conniston completed the trilogy.
He's best known for his lead character, CSI Eddie Collins, and the acerbic way in which he roots out criminals and administers justice. Eddie's series is four books and two short stories and there's still more to come.
Andrew is a proud Yorkshireman and sets all his novels there, using his home city of Leeds as another major and complementary character in each of the stories.
I asked Andy to answer a few short questions and he kindly agreed. Here goes…
Tell us a little about yourself – don't be shy!
My name is Andy Barrett (Andrew is reserved for the book covers, for Sundays, and for when I'm being told off – which is often), and I live and work in Leeds.
My previous employment includes working as an oilfield services technician in Kuwait, and building engines for Caterpillar. Right now, I'm in my 21st year as a Senior CSI. I still love it, but I also hate it; I work seven days and get three off, and I swear it eats away at my life quicker than a quick thing on quick pills.
But I'm lucky too. I have a great resource at my fingertips. I'm a CSI and a crime thriller writer – really, how much luckier could I be?
Well, it gets better. I have two wonderful teenagers from a previous marriage and I have Ellie, my delightful almost-three-year-old girl. She'll be three and a half when her mum, Sarah, and I tie the knot next May.
So, my life is pretty full, it's fast-paced, full-on, and I work on my dream as often as I can, sometimes until I drop.
Sounds good to me! How about your latest book – what can readers look forward to when they pick it up?
My most recent release was The Note, a gritty, fast-paced CSI Eddie Collins short story which really gives you a flavour of the series.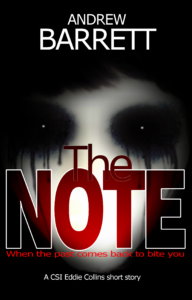 In July, I signed a contract with publisher, Bloodhound Books. And for them I wrote a stand-alone story provisionally entitled, Dancing at the Devil's Door. It was a step away from writing CSI Eddie Collins – in fact, it was a huge leap when you consider I've been writing Eddie books since 2012.
Dancing at the Devil's Door is my first attempt at a psychological thriller. I wrote it in first person, from Becky Rose's perspective. Although I've written short stories in first person before, I've never attempted a novel; nor have I written from a female position.
I have to say that I thoroughly enjoyed writing it. I have no idea when it'll be published, but as soon as I know, I'll pass it on.
What can readers look forward to? Well, the story begins when Becky returns home from work to find her husband dead. He's been stabbed in the chest. She has no time to mourn, though, because a gang of men are ripping her house apart, looking for something. The 'adventure' begins when they turn their attention to her.
Dancing at the Devil's Door contains a few harrowing scenes, some of them quite violent, so perhaps it's not a read for those who enjoy cozy mysteries and the like.
Who is your hero in real life and in fiction?
Whenever I'm asked this question, my first thought is always the same: my dad. He died eleven years ago but, even now, he's my hero. I think of him often and miss him dearly.
However, if you're looking for a hero who's still with us, then I'd have to pick Professor Stephen Hawking. I've always been interested in physics, but that interest intensified after I read his A Brief History of Time. Not only is the man a genius, but his physicians said in the 60s that he had two years left to live. That man overcame tremendous odds and never gave in; he carried on with his own dream while fighting such a debilitating illness. I am in awe of him.
Fictional hero? That's a tough one – I have many. They range from Aragorn to Jason Bourne; from King Arthur to John Snow; from Derfel (see Bernard Cornwell's The Winter King trilogy) to Stu Redman (see Stephen King's The Stand).
Who are your three favourite writers – and why?
Ouch! That's such a nasty question, Louise!
[Blogger's Note: *evil cackle*]
But here goes: Stephen King (his earlier stuff), Michael Kerr, and James Carol. Why? That's the easy part: they all write like I think. I mean, they write fluidly, never pulling me away from the story with convoluted words, always taking care of me as my knowledge of the story and the characters grow and then punching me in the gut near the end.
But the main reason I love all three of these authors is character. Character is the absolute king of the castle and they're all very good at painting their characters in full 3D Technicolor, never allowing them to be something they're not, always keeping them true. Yes, character wins every time.
When you're not writing, what is your favourite way to spend your time?
I used to own a 1984 2.8i Ford Capri until about six years ago. It was mint. I built engine after engine for that thing, always aiming for more power, more shiny bits, more thunder. But these days, mid-life crisis over and done with, I content myself with the odd movie at the flicks, or the odd sip (or several) of a good whisky. Having said that, I get an awful lot of pleasure from the frequent family days out at Whitby, or Skipton, or York, or just messing about in the park. I love making memories.
What do you consider to be your greatest achievement?
As Eddie always says, "I'm just an average arsehole." That's me, never rescued anyone from a burning building, never sailed around the world. I think my only achievement is writing half a dozen books. I'm not saying they're any good; but I am saying that finishing a novel is one helluva challenge and I've risen to it every time.
I don't have any part-written books tucked away in a cardboard box – I've always finished them. Whatever I set my mind to, I always give it everything; so, in that respect, I'd have to say that my greatest achievement is always trying my best (a bit dull, isn't it?).
It's not dull, at all! What was your favourite book as a child?
I am still a child, Louise!
But, I see what you mean. I guess my favourite book was The Lion, the Witch, and the Wardrobe. When you look at it, it's easy to see how that book was the inspiration for the rest of my life. I fell into that book and have tried to find an alternative world ever since…
Have you read any books recently that have really captured your imagination?
Can I twist that question slightly, and tell you about my all-time favourite book that captured my imagination? Oh good! Well, it was The Talisman by Stephen King and Peter Straub. I was so absorbed by that story, and again, by its lead character, Jack Sawyer. I have rarely felt myself disappear into the pages of a book to wander its pages like I did that book, and the following title, The Black House. If I could hit that level of reader immersion in my own novels, I'd be beyond delighted.
If the Prime Minister knocked at your front door and asked to borrow a book, which one would you recommend they read?
Leading a Country for Dummies.
Finally, if you could be any character from a movie, which would it be?
Aw, Louise Ross!
If I could know in advance that I would survive, then I'd quite fancy being Watney from The Martian, simply for the beauty out there and the chance to explore my greatest achievement of never giving up. Oh wait, I would also like to be De Niro in Heat. He is so damned cool – though I'd like to change the ending, if you don't mind.
Having said all that, I'd like to be Jason Bourne. He's self-sufficient, he's one hell of a fighter, and he's not at all scared of heights!
…some great answers, thanks Andy! It's great to find a writer with a genuine background in forensics, which must provide such a wealth of inspiration for new storylines and a real sense of authenticity to those tricky police scenes!
Wishing you all a lovely week and catch you next time,
LJ x
Used by kind permission of Louise Ross. Please visit her site, Lovesuspense, here.