The Story of A Long Time Dead
Written between 1997 and 1998, released June 2011.

Length: About 90k words, 380 pages.

Highest Amazon rank: #1 Police Procedurals, #1 Murder, #1 Crime, #1 Mysteries.

Music listened to while writing: Mostly Ozzy Osbourne.
---
The crime genre is like no other. I came to this from writing horror, where pretty much anything goes. If you have an awkward story-line when writing horror, you can get around it by inventing some new rule (every ten years the earth goes dark; vampires melt in sunlight…), but when you're writing crime, the rules you have to follow are solid.
So, when I began writing Dead in '97, I was faced with two challenges. Keep it real (it's fiction, I know, and so you have a certain amount of latitude with characters and situations), and abide by the rules of the genre. And I was new to the world of forensic science, having only been in the job a year or so.
I was learning the 'craft' when I wrote the first draft of Dead. I included all manner of things that aren't there today. For example, I remember receiving a handwritten death threat from a guy locked up in prison. Let me tell you, that is scary – he knows your name and he knows where you work (see The Note). And he wants to kill you for doing your job. Anyway, I included the death threat as a subplot, something sent from Beaver, who is in jail when we first meet him. But it was one of those 'truth is stranger than fiction' moments, and it had to go.
Also, Roger Conniston used to be called Jon Benedict in the original versions. It was only in 2011 that I ditched 'Jon' in favour of 'Roger'. You may find it strange to learn that changing the name to Roger injected a little more dynamism into his character when I began a serious edit. Jon was okay, but he was a little boring, a little wimpish; when I changed it to Roger, he became a much wilder creature, much more fun to write.
Incidentally, I took 'Roger' from Roger Taylor of Queen (one of my favourite groups), and Conniston from one of the most wonderful lakes in England (yes, I put an extra 'n' in there).
I estimate there have been over twenty-five serious revisions made to this book. That is a horrible thing to admit to; it was either utter rubbish when it was first created or it is the best novel ever written right now. Neither statement is true. There are things in it that I don't like; it reads a little clunky in parts, if I'm honest. But overall, it's a good read, the characters are strong and the storyline is vibrant with a healthy assortment of subplots all coalescing at the right moment. So it's good, but it's not as good as the later books; and that's how it should be. The longer you do something for, the better you'll become.
This is where people speak of finding their 'voice' or their style. And I always thought that was a load of rubbish until it happened to me.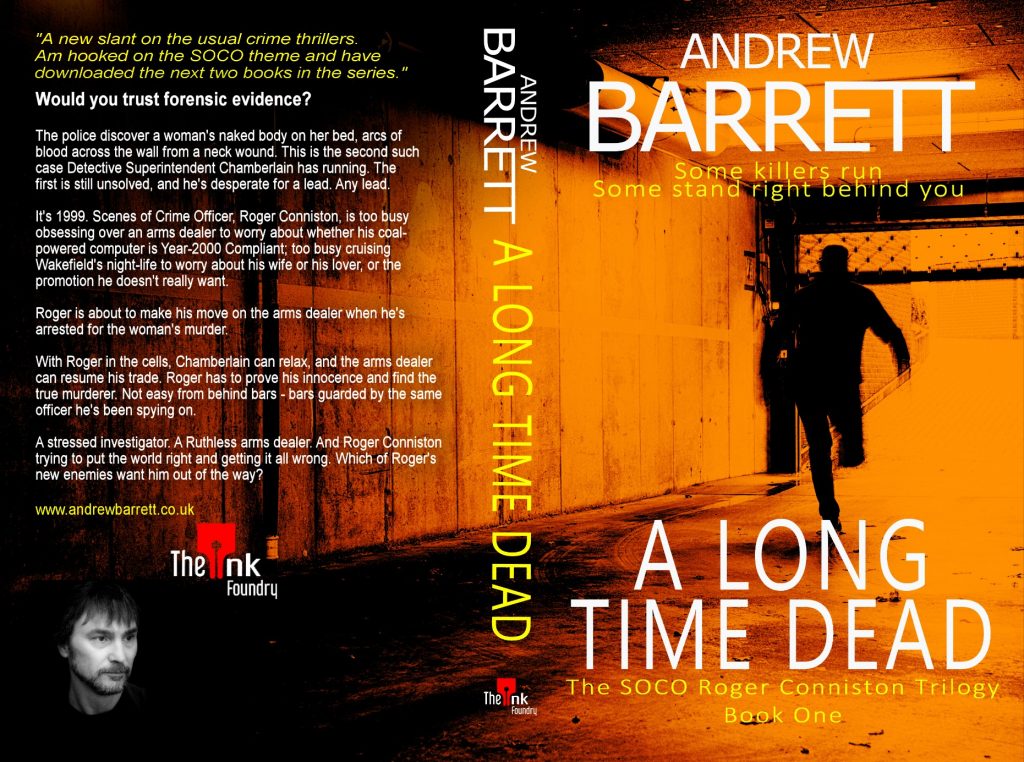 And here's the blurb…
Some killers run. Some stand right behind you. Would you trust forensic evidence?
The police discover a woman's naked body on her bed, arcs of blood tracked across the wall from a neck wound. This is the second such case Detective Superintendent Chamberlain has running. The first is still unsolved, and he's desperate for a lead. Any lead.
It's 1999, and Scenes of Crime Officer, Roger Conniston, is too busy obsessing over an arms dealer to worry about whether his coal-powered computer is Year 2000 Compliant; too busy cruising Wakefield's night-life to worry about his wife or his lover, or the promotion he doesn't really want.
Roger is about to make his move on the arms dealer when he's arrested for the woman's murder.
With Roger in the cells, Chamberlain can relax, and the arms dealer can resume his trade. Roger has to prove his innocence and find the true murderer. Not easy from behind bars – bars that are guarded by the same officer he's been spying on.
A stressed investigator. A ruthless arms dealer. And Roger Conniston trying to put the world right and getting it all wrong. Which of Roger's new enemies want him out of the way?
Find out what happens to Roger next in Stealing Elgar, by clicking here.
Available only on Amazon
FREE with Kindle Unlimited