On Friday 6th February, I will launch the new Eddie Collins short story The Lift. It'll be free to download.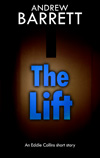 To coincide with this giveaway, I intend making The Third Rule – The Complete Story, free to download for five full days. The Third Rule is to date, my magnum opus, and stands at over a thousand pages, 260 thousand words. I don't intend to make this book free again.
I hope you will read The Third Rule and find out for yourself how I perceived British justice to be in the near future, remembering it was conceived almost eleven years ago. Several aspects of that future have indeed come true, but I hope the main theme, capital punishment, remains totally fictional.
Perhaps you'll agree with The Rules to an extent, forcing those who make crime their living, pay for their own counsel, and pay back into a fund to compensate victims of crime?
We mustn't forget that The Third Rule is predominantly a story about a CSI, Eddie Collins, but also features a small cast of secondary characters, each with their own story to tell, who happen to live amid this intriguing and disturbing background.
Anyway, it will be interesting to note how Eddie has changed during the intervening years. Of course, during those years we can see his development in Black by Rose, and hopefully to be released later this year, Sword of Damocles.
If you do download and read The Third Rule, I would love to hear your reaction.
In the meantime, here is the blurb and a link to your own country's Amazon site:
"If you want to kill serious crime, you have to kill serious criminals." 
Propelled by a wave of atrocities, a new government surges to power and introduces a severe code of punishment. They designed The Rules to rid England of serious crime, but they failed. They said The Rules were infallible, but they lied. The Rules slaughtered truth and justice, and innocent people too. 
One of those innocent people is Christian Ledger, a talented artist charged with a fatal stabbing. Christian is heading for the 'slaughterhouse' because no one will listen; certainly not the police who just scored another hit. Is the secret he carries enough to save his life? 
CSI Eddie Collins, a reluctant hero with one failed suicide attempt behind him, suddenly wants to live when the police hunt him for shooting a colleague. Now he's on the government's list too, and he's running. But they're gaining.
http://smarturl.it/TheThirdRule