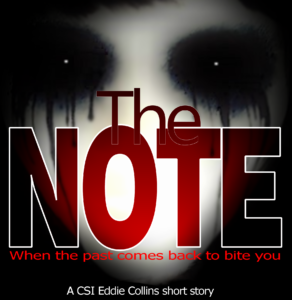 I have some good news to share.
In celebration of The Note being in the Hot New Release chart – right now it's #5 in the United States, and here in the UK, it's sandwiched between Ragnar Jonasson and Val McDermid – I'm dropping the price to 99cents/99pence until the end of May.
In the twenty-one days since its release, The Note has done phenomenally well, and readers like you have loved the story enough to give some quite spectacular reviews*. People have taken this little book to their hearts, and I'd like to see the momentum continue by offering it for as little as possible to those who've yet to experience it.
The Note is exclusive to Amazon [Not any more, please click on the links on the front page].
To grab your copy in the US, click here.
To grab your copy in the UK, click here.
To grab your copy everywhere else, click here.
If you've already read and enjoyed The Note, please do me a huge favour and leave your review. The number of reviews and the overall rating really makes a huge difference; if it comes to Amazon's attention, they'll help with advertising and marketing, and of course it'll help other potential readers take a closer look too.
If you've left your review in your home country, thank you, but would you be kind enough to copy it across to Amazon's UK site?
Please click here to leave your review.
The Note has 96 reviews in the UK (average 4.8). Let's see if we can break the 100 barrier. How about the 120 barrier? We can do this with your help.
In the last email, I said I would give away a paperback copy to two people who'd been kind enough to leave a comment on any Amazon site. I'm extending it until the beginning of June to give people more chance. And I'll be giving away three copies, not two – chosen at random.
---
*Here's a selection of some of the latest reviews.
Despite being only a short story, this is one of the most enjoyable crime thrillers I have read. Lots of suspense and humour from Eddie's point of view, and nice twists at the end.

A very clever play with words combined with complex but believable characters kept me enraptured from start to finish.

Loved it, it's use of a mixed ensemble of characters even down to grammar correction, had me spellbound but laughing simultaneously. Thoroughly enjoyable and recommend to all

I am not usually a fan of short stories, just as you are getting into them, they are over. This one is different, the compelling storyline immediately drags you in and hits you with twist after twist, and with the dark humour of Eddie Collins thrown in, you will not be able to put it down! This is easily the best short story I have read and would recommend it to anyone, The climax is quite brilliant!

Loved this short story!! It was full of twist and turns and heart pounding action. I love any story that makes your adrenaline start racing and The Note did this to me. Andrew Barrett is an amazing writer and anyone who likes a book you can't put down this one is for you.
There are dozens and dozens more. Please hop over to your local Amazon store here and take a look.
---
That's all from me for now. I'll be back again in a week or two, and I'll share with you news of how The Note has progressed. I sincerely hope it will be good news, and I know with your help it can be.
I wish you a wonderful weekend filled with sunshine, happiness, and reading.
Andrew