The last time my back catalogue looked like this was summertime 2017, before I went with Bloodhound Books and took all of my CSI Eddie Collins books down from Amazon and the other platforms.

So now I'm back doing this stuff all by myself again. And I look around and see all of the old books back just as they were, with the old titles back and the old covers back too. There's one or two differences, though. I took the opportunity to update the website address on all of the covers. I didn't update the author photo though – I've decided I'm not going to age just yet. Another few years and I might upload a more current one. Maybe.

There is one notable difference to the original line-up: the addition of The End of Lies. Bloodhound kindly gave me the rights to Lies too, and so she's up on the shelf as well. I might have some good news concerning The End of Lies over the next few months so keep your ears open. Check out the foot of this post for the new cover for The End of Lies. Hope you like it.

So here are the books in order and with the correct titles:
SOCO Roger Conniston series:
A Long Time Dead

Stealing Elgar

No More Tears
CSI Eddie Collins series:
The Third Rule

Black by Rose                                     (was No Time to Die when published by Bloodhound)

Sword of Damocles                         (was The Hammer Falls when published by Bloodhound)

Ledston Luck                                      (was The Long Revenge when published by Bloodhound)

The Death of Jessica Ripley          (due out summer 2019)
CSI Eddie Collins short stories/novellas
The Lift

The Note

The Lock
Stand Alone novels
For The End of Lies, I liked this cover, but it's difficult to read as a thumbnail. Because of that, I changed the colour of the title to white…
And I think it's much easier to see.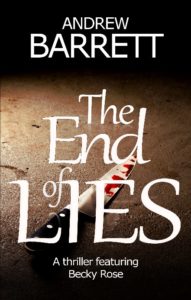 But I could go back to the original coloured title lettering for the paperback, and so that's what I've done. Not too sure how many other books out there have different covers for each format. Maybe I'm a trendsetter! Maybe not…
I hope to have some more good news about The End of Lies soon, and I can't wait to share it with you.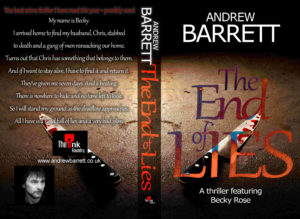 If you'd like to add The End of Lies to your own collection, hop over to one of these stores and help yourself.
The End of Lies on Kobo – coming soon