How do I write?
One word at a time, as a certain Mr King once said.
Yes, that's all well and good, but really, how do I write? Okay, if you really want to know. I have a desk with a window to my left. The blinds are always closed because I don't like being distracted and because I don't like bright light; I like the consistency of my uplighter. It's an old lamp that has no shade; it's nailed to the wall and casts a bright semi-circle of golden light onto the ceiling. When the light reaches me it's perfectly diffused, evenly bright. I suppose there are posh uplighters on the market, but I like that battered old carcass. The window is never open because I don't like drafts and I detest noise from the street.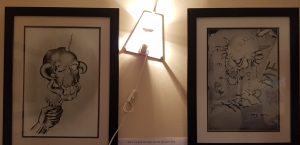 On the wall I have a poster made up of the first edition covers of A Long Time Dead, Stealing Elgar, and No More tears. I also have a couple of framed drawings I did years ago – maybe thirty years ago. Below them is a sheet of paper with a handy writing hint printed on it: write the slow parts fast and fast parts slow.
When you're writing in the winter time, it's amazing how cold a desk feels against your forearms. And in summer, it's amazing how much your sweaty forearms stick to that desk. So a good friend of mine crafted a large sheet of burgundy suede that eliminates both problems and gives a pleasing backdrop – I love it.
I have two computer screens, not because I'm greedy, but because I like space. I can use one to write on, and check research on another; or I can have two documents open at the same time and copy and paste between them. I wrote most of my early books on a laptop, but if I had to do that these days I'd probably feel claustrophobic.
Between the screens is a nick-knack area. I have some 9mm bullets, some shell casings, lead shot, a sixpence minted in 1966, a wooden heart and a glass dream-catcher from a dear friend, and a scorpion set in resin. Oh, and a fossil. And an orange plastic duck.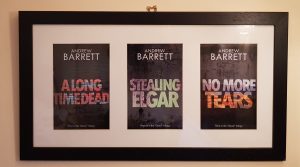 I sit in a swivel office chair that I rescued from a skip ten years ago. The material on the seat has worn away and you can see the padding through it. At least you would be able to see the padding if I didn't have a fleece throw covering it. That fleece throw has pictures of my lady and my daughter dyed into it. There's a knob under the seat for some adjustment or another (never used) that the cat chews whenever he's not actually laying in the chair. I could probably get one of those plush leather chairs with a contour mesh back and lumbar support. But I don't want one; I like my rescue chair.
Under my desk I have a large cushion that I rest my feet on when I'm in the slouched position. Imagine my dismay at finding out that the cat had the shits one day and had decided that cushion – hidden from view – was the best place to take a dump. Oh, how I laughed.
I use a solar-powered Bluetooth keyboard. I write in one of two positions: Sitting bolt upright, leaning forward as though I'm inspecting a corpse, or slouched as I am now. I drag that keyboard all around the desk to suit my position. Same deal with the mouse. It has an annoying squeak whenever I turn the scroll wheel, but I put up with it – I'm world renowned for my tolerance, ahem. I keep meaning to spray some WD40 in there, but it'll probably break the damned thing altogether.
As you might know, I tend to come up with a scene or two and then wrap a story around them until I have a complete book. That happened with The End of Lies too – to an extent. I pictured a female coming home from work and finding her husband dead in the lounge and so I wrote that scene; it became an investment in the story, making it harder to throw it away and find something else to write about. The problem that followed was why would someone want an average man dead? Was he in the drugs trade? Possible, but it was very cliché (hate cliché).
So that's how I get going with a story. Sometimes I hit a wall. It's not writer's block as such. I've never suffered from a lack of motivation either. It's plot block I suffer from, and I guess it's something that all pantsters suffer from. The dreaded What Happens Next bit. That's when I need  music the most.
I like to blot out the real world and sink into something more thrilling (writing!), and music helps a lot. I tend to go through spells of artists lasting months at a time. I've listened to Queen all my life, and nothing quite grabs me like their stuff does – the old stuff I mean, not the latest stuff. And then there's Pink Floyd. Wow. Their music is laden with emotion and I use it to take me places within the story and get me going again – same goes for David Gilmore. I've also used Muse, Florence and the Machine, Slash, Halestorm, Led Zeppelin, and more recently, a new favourite: Sia. I tried some Ludovico Einaudi… I can take it or leave it, though it's good for sadness I've found.
I listen on a pair of (you guessed it) Bluetooth headphones because there are usually other people in the house and I don't want to disturb them. This is great until Sarah creeps up on me and scares the crap out of me! Not funny. Okay, a bit funny.
Once I've finished a story, I print it out, two-pages per sheet, as you'd see in a book. And I go through it with a Bic pen. A red one. Fine point only. Once the amendments are incorporated into the Word document I send it out to two people. Very special people, and they get to read it before anyone else.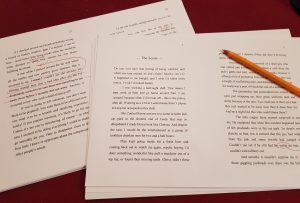 I like to be organised, but in reality I'm not. My desk is littered with post-it notes; I have an A4 lined pad to my right (sitting on top of my desk diary that I haven't looked at for weeks) stuffed with notes about formatting, about marketing, about the story… I also use Evernote – because I am really organised. And I've been known to make audio notes on my phone too – because I'm really modern.
Seldom do I go through all these damned things and bring them into the story. Why? Because I'm just not organised enough. Sigh.